This is a great source for some short audio snippets that answer some common questions and topics in under 10 minutes. There's over a couple hundred clips, all given by Pastor John Piper from Desiring God Ministries. This app is free and worth a look.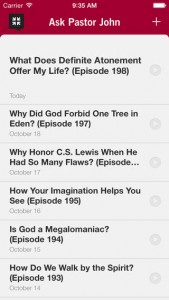 Download the Ask Pastor John App on iTunes
Desiring God Online is a great resource for learning and reading material on the word of God, which is all free and available.
(I have no affiliation or connection to Desiring God, I am just a supporter of their beliefs and material.)